Sans vouloir crâner…
Les fameux "crânes de cristal" (généreusement) attribués aux Maya (et dont on sait maintenant que plusieurs d'entre eux sont des faux récents) font rêver bien du monde…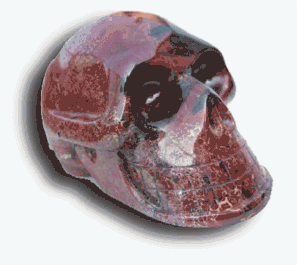 Les fameux "crânes de cristal" (généreusement) attribués aux Maya (et dont on sait maintenant que plusieurs d'entre eux sont des faux récents)
font rêver bien du monde
. Certains croient que les "Anciens" — très sages et très savants, comme il se doit — les utilisaient pour soigner diverses maladies (ah! les pouvoirs merveilleux du quartz !). Alors il n'en faut pas plus pour que se monte un juteux commerce et, sur e-bay,
vous pouvez vous acheter votre crâne-guérisseur sans problème
, à condition de débourser quelques dollars. Certains sont effectivement en quartz, d'autres en roches diverses, toutes parées de vertus particulières. La plupart de ces objets sont fabriqués en Chine, et l'un des vendeurs montre même une photo où l'on peut voir l'étiquette "made in China", qu'il a oublié de décoller. Aucun marchand ne prend le risque d'assurer qu'il propose une pièce antique aux enchères, mais les plus malins laissent planer le doute. Par exemple, l'un d'eux fait ainsi l'article pour un petit crâne présenté comme étant en "
Felspath aventurine
", parfois appelée "pierre de soleil" :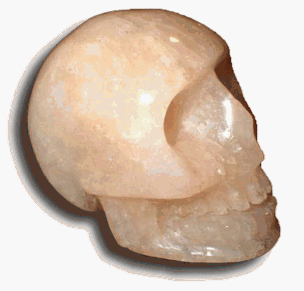 "Sunstone" en anglais : discover the secrets to the Crystal Skulls Mystical OLIGOCLASE (yellow Adventurine) QUARTZ CRYSTAL AKA- Sunstone, Zedstone Crystal come from a remote place in NORWAY. Sunstone is a stone with an interesting history of beliefs surrounding it. It has been used by the Canadian Indians in medicine wheel rituals, by ancient Greeks who thought it to represent the sun god bringing life and fortune, and by ancient India who believed it provided protection from destructive forces of the other realms. A variety of feldspar in the moonstone family, it is best used today to clear and re-energize the chakras and create a "blank slate" in order to make room for love and positive energy acquired during meditation and healing practices. This stone is linked symbolically to moonstone. It is most powerful when the sun is directly overhead. Sunstone can be used to treat Sore throats,Aching feet, Ulcers, Cartilage and bone problems, Lungs, Heart, Adrenal glands, Muscular tissue, Nervous System, Stress. It is a protective force. It increases physical energy and fights fatigue. Dissolving blocks in the heart Chakra. Aventurine is also excellent for protecting the Heart Chakra, acting as a shield against energy draining forces and PEOPLE. Helpful in reducing cholesterol & the prevention of arteriosclerosis. Use it to clear the skin (especially when allergies are involved). Enhances: Mental powers, eyesight, gambling, money, peace, healing, luck. It represents abundance and the renewal of life.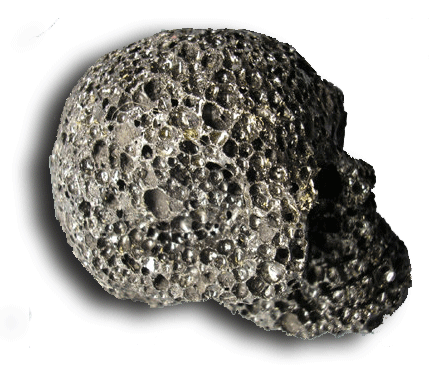 Tout cela donne vraiment envie d'acheter, non ? Moi, je vois un autre usage possible à ce genre d'objet, le plus souvent de la taille d'une orange… suivez mon regard. Vous vous en procurez un d'aspect un peu abîmé, qui ait l'air un peu ancien. Pas un de ceux au poli miroir, non, plutôt un comme celui que vous voyez ci-contre et qui est en vente sur e-bay (cliquer sur l'imagette pour l'agrandir). Vous le vieillissez un petit peu plus en lui donnant quelques coups ici et là, puis vous le patinez avec ce que vous voulez (de l'ocre, par exemple). Puis vous l'oubliez sur un site à fossiles, de préférence du tertiaire, du secondaire ou du primaire. Surtout, prenez bien soin d'éviter les sites quaternaires. Puis arrangez-vous pour que l'objet soit inopinément trouvé par un amateur naïf et pas trop compétent, qui va immédiatement crier à la découverte du siècle. Si vous avez quelques relations, mettez-le en rapport avec un journaliste en mal de copie sensationnelle. Le résultat est garanti !
Bon, soyez sympas, dites pas que c'est moi qui vous ai donné le truc.

JLLQ